Today I want to introduce you to a super cool duo that I just recently learned about! They are awesome, their music is amazing, and you need to know more about them! Keep reading to find out more about them!

NN: Tell us a little bit about each of you and how you got into music? How did you end up forming a duo?
Jon: I knew I wanted to be a musician the first time I saw Guns N' Roses "Welcome to the Jungle" video when I was 6 or so yrs old. Then, long story-short, in middle school I started a band with some friends and I've been in one ever since, pretty much.
Steevie: I'm from a small town in Pennsylvania called Blairsville. I realized at a young age (probably 5 or so) that I could sing well. I would sing along to Disney movies and memorize the lyrics. My first show and tell experience was singing 'part of your world' from The little Mermaid to my kindergarten class. Basically, from that point on, I was obsessed with music and singing everything and anything my ears absorbed! I wrote silly songs as a child and as I grew older, it became more and more serious for me. I set high standards for myself with the learning process which is why I essentially moved to Nashville to become better at my talent and skill.
In 2010, Jon and I met at a songwriting seminar in Wyoming. We connected instantly among the few that were excepted to be out at the ranch. Call it fate, maybe, but we learned that we were neighbors back in Nashville. We starting writing together as soon as possible. Our styles meshed well and songs became our world as a unit. We formed an exceptional relationship which led to an undeniable musical duo.

NN: How would you describe your sound to those that haven't heard your music before?
TOWNE: Our sound falls somewhere between "big-city pop" and "country" - that's how we decided to call ourselves, "TOWNE".

NN: Tell us about your most recent music?
TOWNE: Our new EP entitled 'Games We Play' is our most recent, honest music to date. Over the course of the past year, we tapped into a style that we both felt comfortable wearing out. We finally started writing for ourselves and each other instead of making up stories that didn't necessarily apply to us. Our recent music can almost be described as therapy sessions in song form!

NN: If you could do a collaboration with anyone who would you choose and why?
TOWNE: Ryan Tedder from One Republic! We love everything that he's a part of and would love to see what would happen if we all got in the same room together.

NN: You have a lot of shows around the Nashville area, what are three things you have to take with you to a show?

Steevie: Tambourine, Deodorant, Oversized purse for everything else I forgot to grab.

Jon: Guitars, a shirt to change into after the show, hair comb.

NN: What is your favorite song that you've recorded?

TOWNE: ​"Messed Up" because when we went into the studio the song was brand new and we weren't exactly sure how, or if, it would turn out- when we heard it through the speakers our hearts exploded!

NN: Anything else you want us to share with our readers?

TOWNE: Check out our

website

and tell a friend about us!

Check out TOWNE and follow them on social media at the links below!
Powered by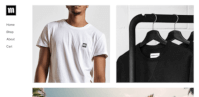 Create your own unique website with customizable templates.